| | |
| --- | --- |
| Monday | Closed |
| Tuesday | Closed temporarily |
| Wednesday | closed temporarily |
| Thursday | Closed temporarily |
| Friday | Closed |
| Saturday | Closed |
| Sunday | Closed |
Weather may occasionally interfere with our store hours and classes. PLEASE call ahead if there is any doubt in your mind if we are open. Thank you so much!
Lots Happening at The Stamper's Cove
Hi Everyone!
Hope you are all doing well! We have had a VERY busy few weeks here at The Stamper's Cove. Below are some photos from one of our Coffee & Card mornings:



Doris, Lucy, Kathy, Judy, Diane, Mary, Sherrie and Taia - your cards are gorgeous! Thanks Linda for your support with our beautiful card!

We have some seats available for our "Twelve Days of Christmas Mini Book" class. The book is 4x6 - just the right size for your Holiday photos. The class is being offered on Thursday, December 19th from 12:30 - 2:30 PM and again on Saturday, December 21st from 12:00 - 2 PM. The class fee is $15, which includes all your materials. It's a great gift and really special because it is made by YOU! A sample is in the store. I used Graphic 45 papers to create this beautiful book - here are some photos of what you will create:


It's fun to make and goes together quickly! Call the store (941-907-0802) to register!

One of the classes scheduled in January is our "Moment in Time" calendar class. This class will be offered on Thursday, January 16th and again on Saturday, January 18th. This will be an all day class. It will be 10:30 - 12:30 (lunch 12:30 - 1:30) class resumes at 1:30 - 3:30. As you can see from the photos below, we will do a lot of cutting and creating embellishments for our calendars, with the end result being a BEAUTIFUL keepsake calendar! Class fee is $35 which includes two Graphic 45 paper pads (12x12 & 8x8) used to create the calendars. Lunch is on your own - we will probably have it delivered. Here are some photos - a sample is in the store. Call to register - 941-907-0802.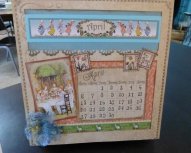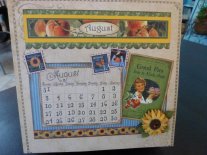 We started our Tag Tuesday Class - meeting every other Tuesday 12:30 - 2PM. Class fee is $3. Here is a photo of the tag we will be making this Tuesday, December 17th. We do have some seats available, so call the store to reserve yours - 941-907-0802.

On Tag Tuesday (tag on the left), you will learn how to the create flowers, use distress crackle paint, and sand & emboss a background to create a beautiful tag.
At our next ATC class we will create this ATC - using 3D Cyrstal Luster and lots of sparkle. Our next ATC club date is Wednesday, December 18th 12:30 - 1:30, class fee is $3. Call the store to reserve your seat - 941-907-0802.

Just as a reminder - we have lots great gifts for the Holiday - including Gift Certificates - great stocking stuffers! Before I go here's a photo of my Granddaughter Emelia visiting Santa - hope it makes you smile!



See you soon!
Kathy
"Do Something Creative Everyday!"