| | |
| --- | --- |
| Monday | 10 - 6 |
| Tuesday | 10 - 6 |
| Wednesday | 10 - 6 |
| Thursday | 10 - 6 |
| Friday | 10 - 8 |
| Saturday | 10 - 8 |
| Sunday | 12 - 6 |
Weather may occasionally interfere with our store hours and classes. PLEASE call ahead if there is any doubt in your mind if we are open. Thank you so much!
The Stamper's Cove Update
Hi Everyone!
We have a lot happening at The Stamper's Cove! If you haven't been by the store lately, you need to put "The Stamper's Cove" on your 'to do' list! We have a lot of new papers(Graphic 45, Kaiser Craft, Prima, Bo Bunny, etc), stamps, embellishments and card/layout samples.

Do you have your ccalendar organized and ready for 2014? Have you started your journal? Take a look at the classes below - we are here to help!

Thursday, January 16th or Saturday, January 18th - 10:30 AM - 3:30 PM : Join us to make a GORGEOUS calendar - using Graphic 45 'A Place In Time' papers. We will use both a 12x12 and 8x8 paper pads and lots of embellishments to make our calendars. We still have a few seats available for the Saturday class but you must call NOW! You can register by calling the store (941-907-0802). Class fee is $35 due at time of registration.
Here's a photo of one page of the calendar - the sample is in the store.
Bo Bunny Misc Me Calendar/Journal: Thursday, January 30th - 10:30 AM
- 12:30 PM or Saturday, February 1 (same time):
Do you prefer a "Day Timer" type of calendar? Then this class is for YOU! We will use the "Bo Bunny Misc. Me" line of papers and binders to create a 'binder type' calendar or journal (your choice). All the supplies are included in the price of the class. For the calendar the materials include the binder, weekly pages, monthly calendar tabs, note paper, photo inserts and embellishments. If you prefer to make a journal, the materials include the binder, journal pages, jounal cards, note paper, dividers, photo inserts and embellishments. The Misc. Me calendar/journal is in the store for viewing. Class fee is $25 due at the time of registration.



Valentine's Day is coming soon - are you ready? We have some classes planned just for you!

"Be My Valentine" Card class: Thursday, Janurary 23 or Saturday, January 25 - 10:00 - 12:30. Create 3 BEAUTIFUL Valentine's using Kaiser Craft papers, flowers, ribbon, wood flourishes and lots of 'bling'. The cards are in the store - call now to reserve your seat (941-907- 0802). Class fee: $15. Here's a sneak peek:



Be Mine Mini Album: Friday, January 31 (ONLY One Class) 10:30 AM - 3:30 PM: You have to see this book to believe it is made from 'toilet paper rolls' - yes, I said 'toilet papers rolls!' It is so cute - we used Bo Bunny 'Head Over Heels' paper and fun embellishments to create this 'one-of-a-kind' book! Judy Wetter is the Instructor for this class. Class fee: $25. Call to register and reserve your seat TODAY: 941-907-0802. The book is in the store - here are a few photos:



Tag Tuesday - January 21: 12:30 - 1:30: Class fee $5. Join us on Tag Tuesday to create our next beautiful tag! Call the store to register (941-907-0802). Here's the photo: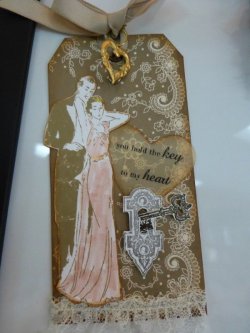 MARK YOUR CALENDAR: On February 15th we are having a 'used stamp sale!' Do you have stamps, paper pads, cutters, punches, stencils, etc that you are no longer using? Sell it at our 'used stamp' sale! Here's how it will work:
Come into the store and register. You will be given a 'code' to write on all the items you want to sell.
Several days before the sale, bring in your items priced and with your code clearly visible on the items. Please make sure your items are clean and in good condition to sell.
We will sell your items on the day of the sale, you do not need to be present.
After the sale, you will receive either cash or store credit for the items sold at the sale minus 25%. For example: If the items sold at the sale with your code equals $100, you will recieve $75 in cash or store credit, which ever you prefer.
You must pick up the items left after the sale no later than Wednesday, February 19th at 6PM. I will stay open late (8 PM) on Tuesday, February, 18th for anyone that cannot pick up items during the day.
Questions? Call me - 941-907-0802.
Whew! A lot going on at "The Stamper's Cove" and I didn't even mention EVERYTHING on the calendar! To see everything on the calendar, click the link below - please note: this calendar is interactive - when you view the calendar, to get the details for each class, click on the class.
www.thestamperscove.com/module/events.htm

Looking forward to seeing you soon at THE STAMPER'S COVE!

Kathy

"Do Something Creative Everyday!"