(Feb 12, 2014) Thank You, Thank You, Thank You!
Wow! What an incredibly FANTASTIC day at The Stamper's Cove! The day started out with our Coffee & A Card class and it was wonderful! Bev shared her mice and they were delicious! (see the photo below) - thanks so much Bev for thinking of us! You 'bus people' are wonderful! I adore you!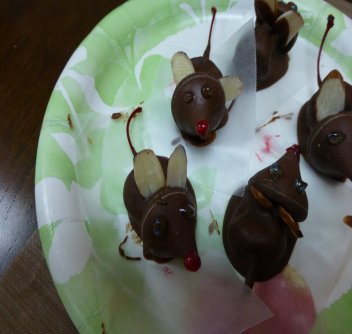 Tana shared her beautiful layouts, made with papers from The Stamper's Cove. of course! Graphic 45 "Sweet Sentiments" and Kaiser Kraft "Lady Rose" papers to be exact! Great job, Tana and thanks for sharing!
Thanks, too, to Judy for making ALL the flowers for the Shop Hop - 75! They are BEAUTIFUL!


We welcomed 'Wendy' to our Coffee & A Card this morning - so nice to meet you, Wendy and glad you could join us! Bonnie's sister Betty is visiting and also joined us this morning - always so nice to meet 'the family!' We had a lot of fun making our card - lots of hearts and neon happening!

After our Coffee and A Card, Judy and Linda stayed to work on our tags - they are looking wonderful! Judy and Linda worked on glitter - a girl has to have 'bling' and our tags have 'bling!' Linda left and another Judy with Diane and Tana came after lunch to continue the production. Diane was in charge of cutting doilies (and also did some glittering), Tana cut all the paper for the 600 layouts and Judy cut all the ribbon - over 100 yards! Before they left, Marcia arrived and continued to work on the glitter
- then Annette stopped on her way home from work and also glittered! So, thank you, thank you, thank you to EVERYONE for all your help today! I just can't believe how very fortunate I am to have such a wonderful community of crafters coming into The Stamper's Cove!
Here is a 'close up' of the progress we have made on our tags - notice the glitter on her crown, bow on her dress and her shoes! More glitter to come....
Used Stamp Sale
In addition to making tags all day, I was busy collecting stamps & crafting items for our "Used Stamp/Craft Sale" on Saturday! Wow - we have some really fantastic items for the sale! Stamps, punches, paper, embellishments, cutters (one brand new still in the box), an embosser and much, much more! Don't miss this sale!
Store hours for the sale will be 10:00 AM - 4PM (possibly later if we are busy - but call ahead if you are coming after 4PM)
And last but not least - we need to be thankful we live in Sarasota! Here is a photo of my daughter, Sarah, her husband Michael and my beautiful granddaughter, Emelia - they live in Atlanta - how lucky are we?!!



Have a great rest-of-the week everyone! See you on Saturday at the Sale!!

Kathy
Remember - "Do Something Creative Everyday!"