| | |
| --- | --- |
| Monday | Closed |
| Tuesday | Closed temporarily |
| Wednesday | closed temporarily |
| Thursday | Closed temporarily |
| Friday | Closed |
| Saturday | Closed |
| Sunday | Closed |
Weather may occasionally interfere with our store hours and classes. PLEASE call ahead if there is any doubt in your mind if we are open. Thank you so much!
The Shop Hop Has Started and It's A Blast!
Hi Everyone!
The 2014 Shop Hop has started and it's been a BLAST! WOW - it has been an incredible two days at The Stamper's Cove! We had 116 "Shop Hoppers" on Friday and over 125 "Shop Hoppers" on Saturday! We are open today, Sunday, from Noon - 6PM - so looking forward to another very successful day! Remember - we are open every day until Sunday, March 9th for the Shop Hop, so if you haven't started your 'Hopping' yet, you still have time.

Before I share some photos from the 'Shop Hop,' let me share some photos of all the 'preparation' for the Shop Hop!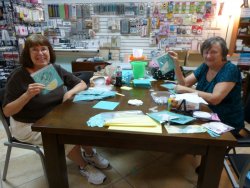 In the first photo, Sandy & Tana are adding the flowers to our tags - Judy is helping and Judy W. is gluing down the doilies. Diane was 'promoted' to glittering and she wore it well! Teal glitter is definitely her color! In the last photo Carole and Carole are bagging the 600 first page layouts and the 300 2nd page layouts! Whew - Carole & Carole worked with me at the store until 11 PM! Thanks ladies! A special thank you to Alice - Alice & I worked steadily until 1:30 AM Friday morning to make sure all the product was priced and on display and to get the photo op ready (more about that later)! Our Friday morning 'Shop Hop' opening was looming quickly and we had to be ready!

Next are some photos from the Shop Hop on Friday and Saturday! It has been SO,SO ,SO much fun! Can you tell? (By the way - thanks to Tana, Judy, Diane, Judy and Alice for use of the props for the Photo Op! As you can see, it has been one of the hightlights of the Shop Hop!)

These are just some of the photos we took the past two days! Everyone seems to be having a great time! We have received rave reviews about the store - everyone loves our tags, so thanks again to all my helpers - or 'voluntolds' as they call themselves!

Before I run to get everything ready for today, I would like to thank Bonnie, Carole, Suzanne, Sherrie, Sue, and part of the 'bus gang,' Judy, Diane and Bev for their help these past two days in the store with the 'Shop Hoppers!' I could never have done it without you! Thanks too, Alice & Tracy - you were my eyes and ears - thanks so much!

Come by and see us during the Shop Hop - have your picture taken and join the fun! See you soon!

Kathy
"Do Something Creative Everyday!"