| | |
| --- | --- |
| Monday | Closed |
| Tuesday | Closed temporarily |
| Wednesday | closed temporarily |
| Thursday | Closed temporarily |
| Friday | Closed |
| Saturday | Closed |
| Sunday | Closed |
Weather may occasionally interfere with our store hours and classes. PLEASE call ahead if there is any doubt in your mind if we are open. Thank you so much!
The Stamper's Cove Update - Shop Hop, Upcoming Classes & More!
Hi Everyone -
Hope you are all doing well and enjoyed your weekend! Just wanted to give you an update on the Shop Hop, upcoming classes and share some recent photos!

First, I would like to say thank you, thank you, thank you to all of you for your help and support during the Shop Hop! It truly 'takes a village' to make over 600 tags, bag over 1,000 layouts and get the store ready! The Shop Hop was a HUGE success because of all of YOU! We had just shy of 600 'Shop Hoppers' visit The Stamper's Cove! We had so much fun! Here are just a few things that happened along the way:
- A 'Shop Hopper' left her cell phone on the counter in the store. When I finally tracked her down, she was thrilled I had called her daughter versus her husband. She said her husband would have given her all kinds of sh___(grief) and she could get her daughter to keep quiet about it! apparently it's happened before! Really funny!
- Martha from The Stamper's Cove, came into the store telling me she had a problem. She proceeded to empty one of our small teal bags onto the counter, then quickly pulled out her iPad to show me a photo. Out of the bag and onto the counter she poured what was left of her Shop Hop Passport - the photo was of her dog! We've all heard the excuse "my dog ate my homework" - well this time it was "my dog ate my passport!" See photo below! Too cute!

- Everyone loved our layouts and most purchased the second page! Here is a photo of one of the many groups making their pages:


- As I shared in an earlier email - our photo-op was a big hit!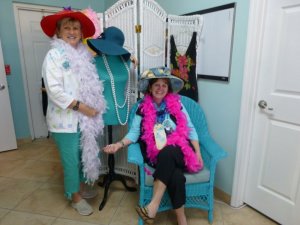 Last but not least here are two photos I love - the first one is of the very first customers of the 2014 Main Street Shop Hop and the second one is of the last customer on Sunday, March 9th at 5 PM! Thanks for your help, Carole!


Thanks again to everyone who volunteered their time to help! I hope you had as much fun as I had - 'cause I'll be calling on you to help again next year - LOL!

Upcoming Classes:
We still have some seats available in some classes this week. On Tuesday, March 18th (1-3 PM), in "Dies To Die For" we will be using several dies from Cheery Lynn Designs to create an Easter Card and share ideas for an Easter layout. This class is $20 and includes a die (in this case it is an Easter Egg Die). Call The Stamper's Cove (941-907-0802) to register for this class.

On Wednesday, March 19th, Judy Arnold will be the instructor for "A Layout To Love" from 1:30 - 3:30 PM ($12). In this class Judy will teach how to make the flowers on the layout in the photo below. You will make the layout in the photo (including the flowers) in the class. Call The Stamper's Cove to register for this class!


On Thursday, March 20th, 1 - 3:30 PM, join me for the class " Spring Cards With House Mouse."(Photo below) We will create 4 beautiful spring cards using House Mouse & Happy Hopper Stamps. You will need to bring either markers or colored pencils to color your images. The class fee is $12. Call The Stamper's Cove (941-907-0802) to register. This class will also be held on Saturday, March 22nd, 12:30 - 3 PM.


Also, just a reminder to mark your calendar - Scrap & Dash is this Thursday, March 20th 4-7PM. A photo of the layout will be online in the next couple days!

As you can see, we have a busy week planned at The Stamper's Cove - hope you can join us! I look forward to seeing you!

Kathy
"Do Something Creative Everyday!"