| | |
| --- | --- |
| Monday | Closed |
| Tuesday | Closed temporarily |
| Wednesday | closed temporarily |
| Thursday | Closed temporarily |
| Friday | Closed |
| Saturday | Closed |
| Sunday | Closed |
Weather may occasionally interfere with our store hours and classes. PLEASE call ahead if there is any doubt in your mind if we are open. Thank you so much!
Hi Everyone -
Hope you are having a great week - it's a hot one, so try to stay cool! I am back from Atlanta and so excited about the August Calendar! Here is a link to the August Calendar on our website.
http://www.thestamperscove.com/module/events.htm?pageComponentId=611663&month=8&year=2014

AUGUST CALENDAR HIGHLIGHTS:

DIES TO DIE FOR: Tuesday, August 12th, 1-3PM, Class Fee: $20
Join us on Tuesday to create 2 cards using the new 'Ornaments' die from Elizabeth Crafts. The Ornament Die is shown in the photo below. The Ornament Die is included in the price of this class!
Call The Stamper's Cove (941-907-0802) to register for the class. Materials needed for the class: Class Kit.

STENCILS, PASTE, SPRAYS AND MORE: Wednesday, August 13th, 1:30 - 3:30PM. Class Fee $15.
In this class we will learn how to use stencils. We will use them with white and translucent embossing paste, metallic embossing paste, modeling paste and texture paste, sprays and inks! This is a technique class, so when you leave you will have a sample of each of the techniques we use in the class. We will use Tim Holtz Layering Stencils and Crafters Workshop Stencils. You will receive a Tim Holtz layering stencil with this class.


BIRD WALL ART: Thursday, August 14 (1-4PM) or Saturday, August 16th (12:00 - 3:00PM). Class Fee: $18.
Join us to create a beautiful and unique piece of wall art! We will use beautiful Kaiser Kraft papers, Kaiser Kraft embellishments and Kaiser Kraft wood wall art to create this piece! The sample is in the store and is a 'must see' item!


CROPPIN AT THE COVE: Friday, August 15th, 6-11PM. Class Fee: $10.
Every 3rd Friday of the Month, The Stamper's Cove will host 'Croppin At The Cove.' Bring your supplies and spend Friday evening cropping! Your $10 fee includes water, soda, pizza and light snacks. You can use the store paper trimmer and die cutting machine (Big Shot), bring your own embossing folders and dies. We still have a few seats available - so call ASAP to reserve your space! 941-907-0802.
MIXED MEDIA -HOUSE CANVAS - Wednesday, August 20th, 1-4PM or . Class Fee: $20.
Have you always wanted to try painting on canvas, but were afraid to try? Then this is the mixed media class for you. I will take you step-by-step to create this cute little house. We will use a template for the house and tree (no drawing skills necessary).To complete this canvas we will use an 8"x8" stretched canvas, Dina Wakley acrylic paint, stencils, stamps, paper,doilies, sequins and various inks and adhesives. No materials necessary - just bring a paint shirt or an apron - paint can be a little messy!


FANCY PANTS BRAG BOOK, Thursday, August 21, 1-3PM. Class Fee: $20.
This month, we will complete a book with the help of the paper craft company 'Fancy Pants.' We will use a Fancy Pants spiral Brag Book and their 'As You Wish' paper, tags, pockets, Brag cards and stickers to create a wonderful mini album. Bring your summer photos (travel, vacation, stay-cation or anything you'd like) to add to your album! Here is a photo of the Brag Book - a sample will be in the store.


USED STAMP/CRAFT SALE: Saturday, August 23rd. 10AM - 4PM
Once again,we are having a used stamp/craft sale! If you have used (but in good condition) stamps, stamp supplies or scrap booking supplies (no refrigerators) you are no longer using and would like to sell them - contact The Stamper's Cove for details 941-907-0802. The sale is Saturday, August 23rd, 10:00 AM - 4:00 PM! If you did not attend our sale in February - MARK YOUR CALENDAR FOR THIS EVENT! We had wall-to-wall customers in February - so come early! You will get some FANTASTIC buys on lots and lots of great stuff! This is a photo of our sale last February!


BEAUTIFUL BACKGROUNDS - Wednesday, August 27th, 1:30-3:30 PM. Class Fee: $12.50.
We will use gorgeous stamps by Inky Antics to create 3 cards with Beautiful Backgrounds We will use Tim Holtz Distress inks, embossing powder, markers, and colored pencils to color the stamped backgrounds!

Please bring the following to class: Class Kit plus blending tool with additional pads, Tim Holtz Distress Ink Pads ( several bright colors will do) markers and colored pencils.


CARDS WITH TIM HOLTZ STAMPS: Thursday, August 28th, 1-3PM. Class Fee: $20
In this class we will create 2 cards and a tag using Tim Holtz stamps & Distress Inks. We will use stamps from the Tim Holtz 'Bird Feather' stamp set. You will need to bring your blue, brown and green distress ink pads (whatever shades you would like) and your blending tool, as well as the rest of your class kit. Cards are in the store for your viewing. Class fee includes a Tim Holtz stamp.
SCRAP & DASH: Thursday, August 28th, 4-7PM. Class Fee: $5
Dash into The Stamper's Cove and take a page layout or stay and Scrap your page! All materials will be provided to make a 1 page layout! You can stay and create the page at the store or take it home to make on your own! A sample will be online and in the store! Please call at least 24hours in advance to make sure I have a layout ready for you . Bring your class kit.
HOBBY TRAY: Saturday, August 30th, 10:30AM - 1PM, Class Fee: $20
Do you have lots of embellishments (stickers, thickers, rub ons, etc) that you desperately need to organize? If you shook your head 'yes,' then you need to join us to make a 'Hobby Tray.' This wood tray measures 12.5 x 12.5 x 3.25 and has 3 divided sections. We will use Kaiser Craft paper (as shown). Visit The Stamper's Cove to see the Hobby Tray.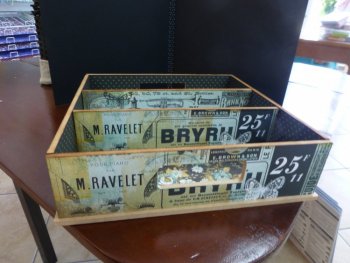 Class Kit: As you've seen in many of our class descriptions, I mention bringing your class kit. Here is what should be in your class kit - please bring it to each class!

Class Kit:
- adhesive of your choice
- scissors
- markers and/or coloredpencils
- 12" paper cutter
- black dye ink pad, and brown ink (vintage) for edging
- double sided tape
- pop dots or foam tape
Additional materials may be specified in class descriptions.

If you would like to register for any of the classes listed below, please call The Stamper's Cove at 941-907-0802. If I am busy with a customer or you call after/before store hours, please leave a message and I am happy to return your call. Class fee is due at the time of registration.

Class minimum is 6. Classes may be canceled if registration is below minimum. (I will call you and refunds will be given.)

Also - crazy weather at this time of year (tropical storms, hurricanes,etc) may occasionally interfere with our shop hours and classes. Please call ahead if there is any doubt in your mind if we are open. Of course, I will make every effort to contact class participants if a class is canceled.


Let me know if you have any questions or if I can help you with any of your crafting needs! I look forward to seeing you soon at The Stamper's Cove!

Kathy
"Do Something Creative Everyday!"