| | |
| --- | --- |
| Monday | Closed |
| Tuesday | Closed temporarily |
| Wednesday | closed temporarily |
| Thursday | Closed temporarily |
| Friday | Closed |
| Saturday | Closed |
| Sunday | Closed |
Weather may occasionally interfere with our store hours and classes. PLEASE call ahead if there is any doubt in your mind if we are open. Thank you so much!
August Calendar Updates - Lots of news!
Hi Everyone -
Hope you are all doing well! Just wanted to send a quick update on the August Calendar and share some photos of the fun we are having at 'The Stamper's Cove!"

Tag Tuesday, Tuesday, August 19th, 12:30 - 2:00 PM. Class Fee is $5 is Tag Tuesday. We hold Tag Tuesday the first and third Tuesday of each month. On Tag Tuesday, we make a tag using a variety of techniques and mediums. On this Tuesday, August 19th, we will make a tag similar to the one in the photo below. Call The Stamper's Cove (941-907-0802) to register for this class.


House Canvas, Wednesday, August 20th
,
1:30 - 4:40 PM. Class Fee $20. Join us on Wednesday, August 20th to create a fun mixed media project! If you never tried painting on canvas, this is the class for you! We will use templates to create the house & tree, stencils, modeling paste and acrylic paint. No drawing required. I supply everything! Just bring your scissors and a paint shirt/apron (it's messy)
and be prepared to have FUN! Call The Stamper's Cove (941-907-0802) to register. Class fee is due at time of registration. Registration/class fee can be done by phone.



Fancy Pants Brag Book, Thursday, August 21st 1-3PM, or Saturday, August 30th, 10:30AM - 1PM. Class Fee: $20: We will use a spiral bound 4x6 book made by Fancy Pants to create a 'Brag Book' of your summer vacation (or stay-cation). This book has about 60 pages that include inserts for 4x6 photos as well as 2x3 photos, journal pages and pockets for memorabilia (photo below). Call The Stamper's Cove: 941-907-0802, to register or for more details.
USED STAMP/CRAFT SALE: August 23rd, 10AM - 4PM. Either call and register to bring your used stamps/crafts to sell or come to the sale for some great bargains! Call The Stamper's Cove for more details: 941-907-0802.


Dies To Die For, Tuesday, August 26, 1-3PM, Class Fee: $20. We will use the Vintage Fan Die from Just Rite Paper Crafts, to create a beautiful card and tag. The Vintage Fan Die is included with the class. The projects will be similar to the photos below. Call The Stamper's Cove to register.


Beautiful Backgrounds: Wednesday, August 27th, 1:30 - 3:30 PM
.
Back by popular demand - we are repeating this class! It's a wonderful class where you will create 3 cards using Inky Antic stamps. We will use a different medium on each cards; embossing and distress inks, colored pencils, and markers. The cards are beautiful! You will need to bring various colors of Distress Ink pads, your blender tool (to use with your distress ink pads), colored pencils and markers of your choice. This class involves a lot of coloring - so be prepared to have a relaxing afternoon! Here is a photo of the cards we will be creating.You will receive a 20% discount on any stamps you purchase that were used in this class.



Scrap & Dash, Thursday, August 28th 4-7PM, $5. Dash into The Stampe's Cove and make a page layout! All materials will be provided to make a 1 page layout! You can stay and create the page at the store (make sure you bring your class kit) or take it home to make on your own! A sample will be online and in the store! Please call at least 24hours in advance to make sure I have a layout ready for you. Our theme for the August Scrap & Dash will be red, white and blue - so bring your 4th of July photos or any others that you think will go with our theme. A photo of the Scrap & Dash kit will be online soon! Call The Stamper's Cove to reserve your kit - at least 48 hours in advance of the class!
Hobby Tray, Saturday, August 30th, 1:30 - 3:30 PM. Class Fee: $20.
Do you have lots of embellishments (stickers, thickers, rub ons, etc) that you desperately need to organize? If you shook your head 'yes,' then you need to join us to make a 'Hobby Tray.' This wood tray measures 12.5 x 12.5 x 3.25 and has 3 divided sections. We will use Kaiser Craft paper (as shown). Visit The Stamper's Cove to see the Hobby Tray or call to register.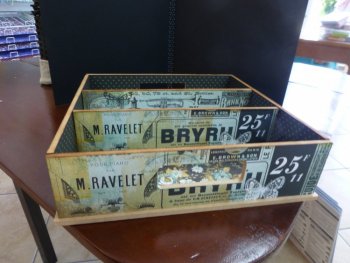 Card Challenge: We have added something new to The Stamper's Cove! We are having Card Challenges. About every two weeks, we have a card template that is given to anyone that would like to participate in the Card Challenge. You have a week to create your card - based on the template - and bring it back to The Stamper's Cove. Then, for the next week, as customers come into the store they get an opportunity to vote on their favorite card (the 'card maker' is anonymous). The winner of the Card Challenge receives a Gift Certificate to The Stamper's Cove. Here are photos of our the past two winners. The first Card Challenge Winner was Maeve Hilton and the second Card Challenge winner was Janet Epstein! Congratulations!
Moving forward, I will be scanning the template and sending out an email, to make it easier for everyone to participate. We will have the cards from our current Card Challenge on display in the store on Wednesday, August 20th. Be sure to stop by to vote for your favorite!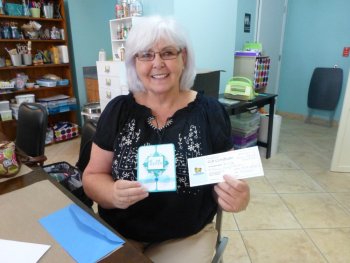 As you can see, we have a lot going on at The Stamper's Cove in August. If you have any questions about any of the classes or activities mentioned, please call me (941-907-0802). I am happy to help you!

Hope to see you soon at The Stamper's Cove!

Kathy
"Do Something Creative Everyday!"