| | |
| --- | --- |
| Monday | Closed |
| Tuesday | Closed temporarily |
| Wednesday | closed temporarily |
| Thursday | Closed temporarily |
| Friday | Closed |
| Saturday | Closed |
| Sunday | Closed |
Weather may occasionally interfere with our store hours and classes. PLEASE call ahead if there is any doubt in your mind if we are open. Thank you so much!
SCRAP & DASH LAYOUT PLUS MORE
Hi Everyone -
Hope you are staying dry on this very rainy afternoon! I wanted to share this month's SCRAP & DASH with you. I also have some news and photos from the month.

SCRAP & DASH: Thursday, September 25th, 4-7PM. Fee: $5.
Dash into The Stamper's Cove and make a page layout! All materials will be provided to make a 1 page layout! You can stay and create the page at the store or take it home to make on your own! A sample will be online and in the store! Please call at least 24hours in advance to make sure I have a layout ready for you . Bring your class kit.

This month's kit will have enough materials for you to make either a 'Dog' or 'Cat' page.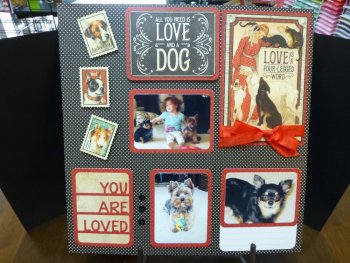 Card Challenge Winners!
Here is a photo of the latest Card Challenge Winners - Congratulations to Marcia Morris (she has the fall card) and to Carol Byne (Dog Card) and Bonnie Teske (Popcorn Card)! They each received a Gift Card for The Stamper's Cove!


Christmas Tree Canvas Art -
Here is a photo of Maeve and Liz with their Christmas Tree Canvas Art projects! They really look gorgeous! Did you miss the class (we have another tomorrow) - stay tuned, I am offering it again in October!


Upcoming Classes:
Here is a link to our September Calendar - I have listed some highlights below:
http://www.thestamperscove.com/module/events.htm?pageComponentId=611663&month=9&year=2014

Dies To Die For: Tuesday, September 23rd, 1-3PM. Class Fee: $20 (includes the Color Block Die). In this series of classes, we will use a different die in each class. I will show you how to use the die and give you several ideas for each one. A die will be included in the class fee. We will meet the 2nd and 4th Tuesday of each month. The die for the September 23rd class is the Color Block Cutting Plate by Taylored Expressions. See photo.




Cards With Tim Holtz Stamps: Wednesday, September 24th, 1-3PM. Class Fee: $20 (includes a Tim Holtz Stamp): In this class we will create 2 cards and a tag using Tim Holtz stamps & Distress Inks. We will use stamps from the Tim Holtz 'Bird Feather' stamp set. You will need to bring your blue, brown and green distress ink pads (whatever shades you would like) and your blending tool, as well as the rest of your class kit. Class fee includes a Tim Holtz stamp.


Christmas Cards With Inky Antics Stamps: Thursday, September 25th, 1-3:30 PM OR Saturday, September 27th, 10 - 12:30 OR Tuesday, September 30th, 1-3:30 PM.
In this "Christmas Cards with Inky Antics" class, we will use Inky Antics Stamps to create 3 Holiday Cards. We will create beautiful backgrounds (created with Distress Inks and embossing powder) for these Inky Antics stamps. Lots of fun embellishments will complete the cards. You will also receive a 20% discount on the stamps we use in the class.


Brag Book: Saturday, September 27th, 1-4PM. Class Fee: $20
We will use a Fancy Pants spiral Brag Book and their 'As You Wish' paper, tags, pockets, Brag cards and stickers to create a wonderful mini album. Bring your summer photos (travel, vacation, stay-cation) to add to your album! Here is a photo of the Brag Book - a sample will be in the store.





MARK YOUR CALENDAR: OCTOBER, 4, 2014!


It is our 1 Year Birthday!

And

it is 'World Card Making Day!'
We are so excited and can't wait to spend the day with YOU! To celebrate we will have cake & punch all day! Plus you can join us to make a free card! Hope you will be here to help us celebrate the day!

To our Anonymous Donor - Thank you so much for your kind words and your gift! I so much appreciate you!

As you can see, we have a lot happening at The Stamper's Cove! If you have any questions or would like to register for any of our classes - call The Stamper's Cove: 941-907-0802. If you would like to email me - please do so at the following email: kathybixler1973@gmail.com - do not reply to this email, it will not get to me!

Oh, yes and in case you ever have a fire, you can call my granddaughter, Emelia! As you can see she is all dressed and ready to roll! I have also included the latest photo of baby Claire. My daughter shares that all is well and she is now up to 7lbs. 10oz. Woohoo!!



Thanks everyone for all your help and support! Hope to see you soon at The Stamper's Cove!

Kathy
"Do Something Creative Everyday!"