Hi Everyone -
Hope you are all doing well and had a great weekend!

2015 MAIN STREET SHOP HOP NEWS: The 2015 Main Street Shop Hop began on Friday, March 20th with our Pre-Party on Thursday evening. Thank you for all your support - we were able to sell ALL our Shop Hop bags this year! The Shop Hop has been WONDERFUL! We have been VERY busy - we expect to have between 700-800 'Shop Hoppers' visit our store through Sunday, March 29th.We have extended hours all week, so even if you are not part of the Shop Hop, you are welcome to stop by - we have the new Graphic 45 & Bo Bunny Papers, Lawn Fawn Stamps & Dies, gorgeous Hero Arts Monogram Stamps and much more! Here are some photos of our 'Shop Hoppers!'
Here are our hours during the Shop Hop - come see us!
Monday, 3/23: 10AM - 6PM
Tuesday, 3/24: 10AM - 6PM
Wednesday, 3/25: 10AM - 6PM
Thursday, 3/26: 10AM - 6PM
Friday, 3/27: 10AM - 8PM
Saturday, 3/28: 10AM - 6PM
Sunday, 3/29: 10AM - 5PM

Our first Shop Hoppers from 'Scraps of Art' - can you tell what their store theme is this Year?

Two very Crafty Shop Hoppers decorated their Shop Hop bags - don't they look great?
More Shop Hoppers having fun!
Taia stopped by, too!

Judy and Marsha 'volunteered' their time to help with the Shop Hoppers - thank you ladies!

A wonderful couple made a 'couple' of layouts - so cute!
Doesn't Aliyah look cute in 'The Stamper's Cove Flower Shoppe?'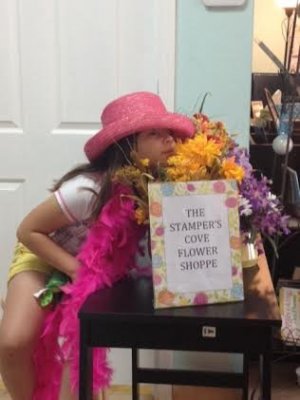 Come join in the fun this week during The 2015 Main Street Shop - we would love to see you!

Kathy
'Do Something Creative Everyday!'