| | |
| --- | --- |
| Monday | Closed |
| Tuesday | Closed temporarily |
| Wednesday | closed temporarily |
| Thursday | Closed temporarily |
| Friday | Closed |
| Saturday | Closed |
| Sunday | Closed |
Weather may occasionally interfere with our store hours and classes. PLEASE call ahead if there is any doubt in your mind if we are open. Thank you so much!
CATALOG ORDERS HAVE ARRIVED & MAY CALENDAR
Hi Everyone -
Hope you are doing well and enjoyed the beautiful weather we had this weekend! It was GREAT!

We had great fun on Saturday celebrating "National Scrapbooking Day!" Congratulations to the winners of our drawings:
- Dawn Tschiggfrie: BoBunny Carnival Paper Collection
- Marcia Morris: BoBunny & Graphic 45 6x6 Paper Pad Collection
- Nancy Hudnall: $50 Gift Certificate to The Stamper's Cove
The Catalog Orders Have Arrived!! If you placed an order during our Catalog Sale, your items have arrived! Please come into the store to pick them up within the next 7 days! Remember - we are open until 8PM on Tuesday evenings for your shopping convenience!
May Calendar: Here is a link to our May Calendar! We have a lot happening at The Stamper's Cove! Please note: we will close registration for each class 48 hours prior to the class to allow time for class prep.
http://www.thestamperscove.com/module/events.htm?pageComponentId=611663&month=5&year=2015

Here's a Preview of some of our May classes!
Crazy Bird Card Class, Monday, May 11th 1-3PM. Class Fee $20: Jill Jacobsen will teach this class using Tim Holtz Crazy Bird Stamps, Distress Paints, stencils, and inks.


Scribbly Bird Canvas, Thursday, May 14th, 1-4PM OR Saturday, June 6th. Noon - 3PM. Class Fee $25. We will use the Dina Wakley Scribbly Bird stamps to create this fun canvas. We will also use layering stencils, Dina Wakley acrylic paints, and sheet music for this 'birdy' canvas.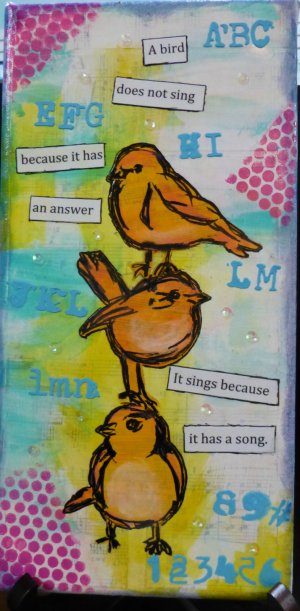 Croppin At The Cove, Friday, May 15th, 6-11PM. Class Fee $10. Every 3rd Friday of the Month, The Stamper's Cove will host 'Croppin At The Cove.' Bring your supplies and spend Friday evening cropping! Your $10 fee includes water, soda, snacks and pizza. You can use the store paper trimmer and die cutting machine (Big Shot), bring your own embossing folders and dies.
Scribbly Bird Tag & Cards, Monday, May 18th, 1:30 - 3:30. Class Fee: $15. We will use Dina Wakley's Scribbly Bird stamps, acrylic paints, stencils, inks and more to create a Tag and Two Cards. Photo TBA.
Beautiful Backgrounds with Alcohol Inks, Thursday, May 20th. 1:30 - 3:30PM. We will use various techniques to create beautiful backgrounds with Alcohol Inks on cards, with aluminum tape and on a tile. Here are a few of the cards we will create.


Mini Photo Album With The Garden Journal Paper Collection: Friday, May 22nd Noon-4PM

OR

Saturday, May 30th. Noon-4PM. Class Fee: $25.
We will use BoBunny Garden Journal papers, brads, chipboard and ephemera to create this beautiful photo album. It has fold-outs, pull outs, and photo mats for all your special photos. It is a 'must see' and available for viewing at the store. Registration will close 7 days prior to the class to allow time to order the materials. Here are some photos of the album.


Okay - so this is just a PREVIEW of what is happening at The Stamper's Cove in May - stay tuned because there is MORE!!

Have a great week and remember to pick up your Catalog Orders this week! See you soon!

Kathy
'Do Something Creative Everyday!'