| | |
| --- | --- |
| Monday | Closed |
| Tuesday | Closed temporarily |
| Wednesday | closed temporarily |
| Thursday | Closed temporarily |
| Friday | Closed |
| Saturday | Closed |
| Sunday | Closed |
Weather may occasionally interfere with our store hours and classes. PLEASE call ahead if there is any doubt in your mind if we are open. Thank you so much!
Hi Everyone -
Hope you are doing well and enjoying this GLORIOUS Saturday! I know many of you may not see this email right away, because you are on your way over to the store to take advantage of our Mother's Day Special - 20% off one item! (Please see the previous email for qualifications!)

First I'd like to wish my big sister, Donna, a Happy, Happy Birthday today! I love her - she is my best friend and I am blessed to have her for my sister! Here is a 'throw back' photo of the two of us vacationing, a VERY long time ago, in Ocean City, Maryland!


Here are some photos of upcoming classes - there is still time to register - remember beginning this Monday, May 11th, we will be open 12 - 5PM! I have included a link below to our May Calendar for your convenience!
http://www.thestamperscove.com/module/events.htm?pageComponentId=611663&month=5&year=2015
Crazy Bird Class: Monday, May 11th. 1-3PM. Class Fee:$20. Jill Jacobsen will teach this class using the Crazy Bird Stamp set from Tim Holtz. She will use Distress Paints, gelatos, stencils and more to create these fun cards! Since the class is Monday, you MUST call TODAY to register for this class OR email me at:kathybixler1973@gmail.com to reserve your seat!
Dies To Die For, Tuesday, May 12th. 1-3PM. Class Fee: $25 (includes Daisy Bouquet Stamp & Die). We will use the Daisy Bouquet Stamp and Die to create these 2 beautiful cards. As you can see from the photo, one of the cards is an Easel Card! Bring your markers or colored pencils to class to color these images.

Scribbly Bird Canvas, Thursday, May 14th 1-4PM. Class Fee:$25. Join us to make this fun 12x6 'Scribbly Bird Canvas!' We will use Dina Wakley's Scribbly Bird Stamps and her acrylic paints, stencils, embossing paste and embellishments to create this one-of-a-kind canvas!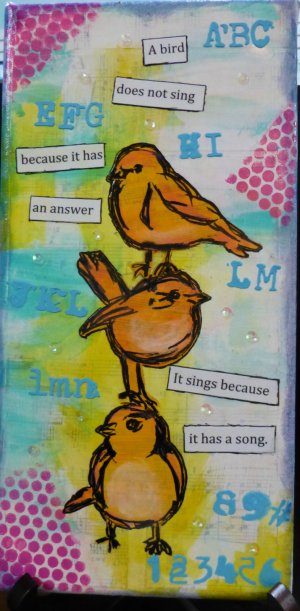 We still have a few spaces available for Friday's Croppin At The Cove: Friday, May 15th, 6-11PM. Class Fee: $10. We will order pizza or sandwiches, work on projects and solve all the worlds problems! Join us for a fun night!
Spring Flowers and Vases: Tuesday, May 19th 6-8PM

OR

Thursday, May 21, 1-3PM

OR

Thursday, May 28th, 1-3PM. Class Fee: $15. We will use Peel Off Stickers and Microfine Glitter from Elizabeth Crafts, alcohol markers, watercolor paper and embellishments to make these 3 cards - really gorgeous! You will need to bring the following supplies, in addition to your class kit, for this class:

- Copic Markers OR Sharpies in multiple colors

(see photo)

, OR some type of Alcohol markers
- Watercolor markers (I used Distress Markers to color my image)

OR

watercolor pencils

OR

regular colored pencils and gamsol OR watercolor pallete
- Water brush OR paint brush
If you have any questions about the upcoming classes or anything else - call the store: 941-907-0802 or email me at: kathybixler1973@gmail.com
If I don't see you today - HAPPY, HAPPY MOTHER'S DAY - to all MOTHERS - whether you are a mother to a 'human' or a dog, cat, hamster, goldfish, snake, turtle or an Alien - have a WONDERFUL DAY!

Kathy
'Do Something Creative Everyday!'