| | |
| --- | --- |
| Monday | Closed |
| Tuesday | Closed temporarily |
| Wednesday | closed temporarily |
| Thursday | Closed temporarily |
| Friday | Closed |
| Saturday | Closed |
| Sunday | Closed |
Weather may occasionally interfere with our store hours and classes. PLEASE call ahead if there is any doubt in your mind if we are open. Thank you so much!
PHOTOS OF THE STORE - PLUS WE HAD MORE VISITORS!
Hi Everyone!
I promised you some photos of the store so you could see all the new paper, embellishments, stamps, mixed media materials and more and you will see them below! These photos do not do it all justice - we have SO MUCH STUFF! You will not recognize the store! It's so exciting! I just got home (11:02 PM), so this will not be a long email - just some photos of the store and a few 'family' photos of visitors we had yesterday!

The first photo is taken from the doorway of the store looking toward the left - as you can see I have changed the direction of the racks and added 3 spinning racks to help accommodate all the new product. I also added between 200-300 paper trays!

These are the two spinners full of paper and embellishments.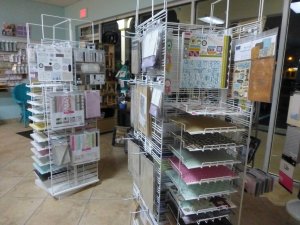 These are the black racks. I turned them around to accommodate all the paper trays.

The other side of the racks with more paper trays! There is another set of racks to the right of this photo - they are out of the photo and also have paper trays!

This is the wall to the right when you walk in the door - notice the paper trays/racks! The table partially covers the paper racks -

And now for the visitors - we had a 'family' stop by yesterday! A rather large family! I had my Yorkie, Lizzy at the store last night. Around 7PM, she started barking at something out the front door. I was working by the front window and looked up to see this family - a mother and her ducklings walking through the hedges. I don't know if they crossed the street or what, but there they were! The the mother duck decided she was going to go down the curb and each one of the ducklings followed right behind here - all of them were then in the parking lot right in front of the store. The walked toward the Consignment Shop - then back up on the curb toward the pond in the behind the store! So, so cute! I could not believe I got to witness mother nature up close and personal! It was so fun just to be able to watch them - life is good! Here are the series of photos:

Hope you enjoyed the photos of our visitors! Stop by the store and see all the new product - you will be amazed! The Catalog Sale is also this week! Here is a link to the calendar:
http://www.thestamperscove.com/module/events.htm?pageComponentId=611663&month=6&year=2015
If you have any questions, call me at the store (941-907-0802) or email me at kathybixler1973@gmail.com

See you soon!
Kathy
'Do Something Creative Everyday!'