| | |
| --- | --- |
| Monday | Closed |
| Tuesday | Closed temporarily |
| Wednesday | closed temporarily |
| Thursday | Closed temporarily |
| Friday | Closed |
| Saturday | Closed |
| Sunday | Closed |
Weather may occasionally interfere with our store hours and classes. PLEASE call ahead if there is any doubt in your mind if we are open. Thank you so much!
Hi Everyone -
Hope you are doing well and having a wonderful weekend! I am sending you this email to update you on our Used Stamp/Craft Sale held yesterday. It was AMAZING! We sold over $1800 of 'stuff' for our 18 'Sellers!' Now they have more cash to spend on more stamps, paper, dies, etc at - you guessed it - The Stamper's Cove, haha! It was a GREAT sale - I arrived at the store at 8:50AM and there were already 'buyers' waiting for us to open and wanting to be first, so they could get the best deals! We opened at 9:30AM and the buying began! We had stamps, paper, die cutting machines, embossing machines, paper trimmers, markers, dies, craft bags, a beautiful Craft Table & Chair (which sold), lots of embellishments and more!

'Sellers' - please remember to pick-up the items that did not sell, no later than Wednesday, August 19th, 4:30PM. As you know, we have very limited space, so we cannot store your items. Items not picked up by Wednesday will be donated to charity.

If you did not get an opportunity to be a 'seller' this time or a 'buyer' on Saturday, no worries! We will have another sale in February! So - get a bin, mark it 'sale' and start putting all the stamps, paper, dies, etc. you no longer use, in it between now and the next sale. Then in February, you will be ready to roll! It's that easy!

I want to thank the following people for all their help with the sale: Terre (she was our 'bag lady' and 'lunch provider'), Chrystal & Maeve ( they were our Step 1 checkers and set-up/pack-up helpers). Thanks, too, to all of our 'Sellers' and 'Buyers' - without you there would be no sale - I appreciate your support! Here are some photos taken throughout the day:


Chrystal & Maeve

Last, but not least, here are some photos of my Granddaughter, Emelia. She was the Flower Girl in a wedding of her mother's friend, May. Emelia was so excited - she told Sarah, it was 'the best day ever!' As you can see from these photos, Emelia was very happy (and incredibly cute)!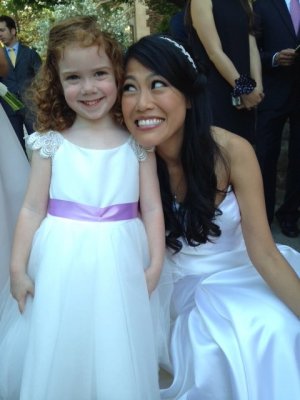 This is Emelia with the Bride.

Here she is with the Ring Bearer. Too cute!

If you have any questions or would like to register for any of our upcoming classes, call the store at 941-907-0802 or email me at: kathybixler1973@gmail.com. Here is the link to the August Calendar:
http://www.thestamperscove.com/module/events.htm?pageComponentId=611663&month=8&year=2015

Well, that's it for me - I am off to rearrange my Craft Room - I can't seem to get it quite the way I want it - seems like it's always so disorganized! Do you have that same problem?!

Have a GREAT week!
Kathy
'Do Something Creative Everyday!'