| | |
| --- | --- |
| Monday | Closed |
| Tuesday | Closed temporarily |
| Wednesday | closed temporarily |
| Thursday | Closed temporarily |
| Friday | Closed |
| Saturday | Closed |
| Sunday | Closed |
Weather may occasionally interfere with our store hours and classes. PLEASE call ahead if there is any doubt in your mind if we are open. Thank you so much!
September Calendar Updates With PHOTOS!!
Hi Everyone -
Hope you are having a great Labor Day, today! It's a bit rainy now, but hopefully the sun will come out soon! We are very excited about the classes we are offering in September - here is a link to the September Calendar:
http://www.thestamperscove.com/module/events.htm?pageComponentId=611663&month=9&year=2015

Lots of boxes have been arriving full of product for the upcoming Holidays! Here are some photos of of the products we have unpacked so far! You will be amazed! We have lots of really gorgeous 'washi tape' and dimensional stickers from 'Little B.' If you are not familiar with their products, you have to come and see their stuff. I put it out on Friday night and sold 12 washi tapes within 2 hours of opening the store on Saturday! You will love it!
Little B:

Bo Bunny has arrived! We have the absolutely gorgeous Bo Bunny Papers and embellishments for several of their new lines including their fall paper, Enchanted Harvest, Christmas Papers, Sleigh Ride and Dear Santa as well as two additional lines, Provence and You're Invited. These papers and embellishments are beautiful! I tried to take some photos, but obviously, you have to see them in person! Also, there's nothing like the smell of paper, don't you agree? I love it (don't tell anyone, but if they made the smell of paper into a fragrance, I would buy it! Haha!). Here are the photos:


Our Graphic 45 order arrives tomorrow PLUS our stamps from Hero Arts and Stamps By Judith have arrived and will be on the shelf this week! Also, the new Lawn Fawn on its' way from California! We are so excited!

Calendar Updates - here are some photos and calendar updates for September!
Tag Mini Book, Tuesday, September 8th. 10 - 1PM. Class Fee: $18.50. Join Chrystal tomorrow to create this Tag Mini Book to keep your tags in - so fun! There are 6 pockets for your tags. Since the class is tomorrow morning, if you are interested you MUST call the store today by 5PM and leave a message telling us you want to attend. I will be picking up until messages until 5PM today. Here are some photos:

Halloween Cards, Tuesday, Sept. 8th, 6-8PM OR Wednesday, Sept. 9th 1:30 - 3:30PM. Class Fee: $12.50. We will make these 3 Halloween cards using dies, stamps, paint, washi tape and embellishments! You will love sending these 'bewitching' cards to your friends!


Fall Cards, Thursday, September, 10th, 1:30 - 4PM, OR Tuesday, Sept. 15th 6-8PM OR Wed. Sept. 23rd 1:30 - 4PM. Class fee: $15. In this class we will make 4 Fall Cards. We will use dies, stamps, embellishments and inks to create these cards. We will use stamps/dies from Taylored Expressions, Stamps By Judith, Cheery Lynn Designs and Great Impressions. Here is the photo:


Coffee Cup Canvas, Wednesday, Sept. 16th, 1:30-4PM. Class Fee: $15. Join Chrystal to create this 8x10 canvas. Chrystal created this canvas based on an Art Journal page she created because many of you requested it! It is a really fun canvas made with paints, stamp, paper, a cup from Starbucks (bring one with you as well as the band), paste and stencils. Here is the photo:


Fall Owl Canvas, Thursday, Sept. 17th 12:30 - 3:30PM OR Saturday, Sept. 26th, 10AM - 1PM. Class Fee: $25. Join Chrystal to make this great Fall Owl Canvas. This is one of those projects you have to see in person - the photo does not do it justice. It has dimension on the branch and leaves that do not translate in the photo. You will use paint, inks, stencils, paper and more to create this very cool canvas! Register now, so you get seat in this popular class!


Exploring Watercolors, Thursday, Sept. 24th, 1-4PM. Class Fee: $27. This class is FULL! We are holding this class again on Thursday, October 22nd, 1-4PM.- This class filled up fast - right after we posted it last week. If you are interested in the October class, you can register NOW!
The Stamper's Cove Card Stack, Saturday, Sept. 19th, 12-4PM. Class fee: $25. Join Kathy & Chrystal to make a Fall Card Stack! We will make 18 great fall cards by going to 6 different stations (3 cards/station). Space is limited, so sign up early to reserve your seat! We will have great fun and make some fun cards!

We will of course, have our 'ongoing' classes in September, that include: Coffee & A Card, Wednesday mornings, 10-11AM (call at least 48 hours in advance to make sure we have space), Scrap & Dash on Thursday, Sept. 24th, 4-7PM (we changed the date so please adjust your calendar), Double Layout Design 9, Sept. 22nd, 6-8PM, Fun Friday, every Friday (except Sept. 18th) 10AM - 5PM, and Art Journal, Thursday, Sept. 10th and Saturday, Sept. 12th, 10AM - 12PM. We will not have Croppin At The Cove this month. We will have it on the calendar in October again.

I know this has been a long email - as you can see we have lots going on in September and I wanted to share EVERYTHING with you!

Thanks for your continued support - without it we would not be in business! Speaking of supportive customers - look who stopped by the other day - Mary Lee!! Mary Lee fell and broke her hip about 6 weeks ago and has been in the hospital and rehab ever since. We have missed her so much at The Stamper's Cove! It was WONDERFUL to see you, Mary Lee!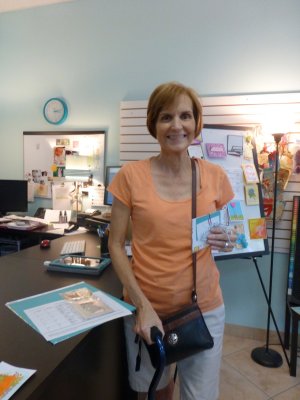 Take care everyone and have a GREAT rest-of-the day!
Kathy
'Do Something Creative Everyday!'