| | |
| --- | --- |
| Monday | Closed |
| Tuesday | Closed temporarily |
| Wednesday | closed temporarily |
| Thursday | Closed temporarily |
| Friday | Closed |
| Saturday | Closed |
| Sunday | Closed |
Weather may occasionally interfere with our store hours and classes. PLEASE call ahead if there is any doubt in your mind if we are open. Thank you so much!
October Calendar, Customer Appreciation Day & 2016 Shop Hop News!
Hi Everyone -
Hope you are doing well and staying safe & dry on this rainy night! I have TONS of news for you tonight and even though it's a bit late ( I just returned from Tampa - I was attending a Shop Hop meeting), I just had to send you an email!

2016 Main Street Shop Hop
The 2016 Main Street Shop Hop will be held February 19th - February 28th. The Stamper's Cove theme this year will be a Tea Shop. Bags/Passports are $10 - we will start selling them on Saturday, November 21st. If you have ever been on the Shop Hop, you know it's incredibly fun - if you've never been on the Main Street Shop Hop, then you MUST GO THIS YEAR!! More details will follow - but mark your calendar NOW!!

October Calendar
Here is the link to the October Calendar! As promised, we have a lot of 'Crafting Opportunities for you in October! You will have an opportunity to create a Fall Harvest Album, A Pumpkin Canvas, A World's Fair Mini Album, Halloween Cards, Fall Cards, and several opportunities to make Christmas Cards! We will also offer a Watercolor Technique Class, Dies To Die For, Tag Tuesday, Scrap & Dash and More!
http://www.thestamperscove.com/module/events.htm?pageComponentId=611663&month=9&year=2015

Customer Appreciation Day/2nd Anniversary Celebration - Saturday, October 3rd, 10AM - 4PM. To celebrate our 2nd Anniversary, we will have a Customer Appreciation Day! We will have FREE Make & Takes (Card, Tag, and Layout) and DRAWINGS all day PLUS Cake! Everyone receives a goodie bag (one/family)! In addition, spend $25 and receive 20% off your entire purchase!

Stamp Club, Thursday, October 1st, 10:30AM, or 1PM or 3PM or 6PM. Are you a member of The Stamper's Cove Stamp Club? Our first club meeting is this Thursday, October 1st - the details of Stamp Club are below. Call the store if you would like to register: 941-907-0802.
The Stamper's Cove is starting our 2nd year of 'Stamp Club.' The Stamp Club will meet once a month and we will make 2 cards/projects each month. Here are more details:
Stamp Club will meet the First Thursday of each month.

Yearly Membership Fee is $50/year – fee can be paid in full at the first Stamp Club meeting or in 2 payments of $25 each due at first & second Stamp Club Meeting. Your membership fee includes: creating the designated cards/project each month and your 20% discount each month. You do not pay any additional fee on the day of Stamp Club.
Snow Bird Memberships are also available for $25, which covers the months of November thru April. Snow Bird Memberships must be paid in full at time of Registration.

Fee is non-refundable.

Yearly Memberships are available anytime! Your Stamp Club membership is for one year from the date of your first meeting.

Must be present to participate in the Stamp Club. Kits will not be provided nor will participants be able to make cards for another Stamp Club member.

Participants will create 2 cards or one larger project (mini book, decorative box, etc) using stamps, dies, stencils, paste, etc.

Participants have the option of coming at 10AM, 1PM, 3:30PM, or 6PM. Each month can be a different time depending on your schedule.

If you decide to change your 'time slot,' please let us know in advance.

20% discount will be given on any one item in the store on Stamp Club Day. Discount cannot be used in combination with any other discount or coupon.

Bring your Class Kit: paper trimmer, scissors, adhesive (wet & dry), colored pencils/markers, pop dots/foam tape, Memento black ink, brown ink for edging, blending tool (rectangle or round), daubers and a water brush.

The first ' Stamp Club ' of our 2nd year will held on October 1st .
Tag Tuesday, Tuesday, October 6th, 1-2:30PM. Class Fee: $5. Join us on Tuesday to create the tag below. It is very dimensional - you will love it!


Art Journal Class: Thursday, October 8th or Saturday, Oct. 10th. 10AM - 12PM. Class Fee: $10. Here is the page you will be creating for your Art Journal. It's a fun fall page!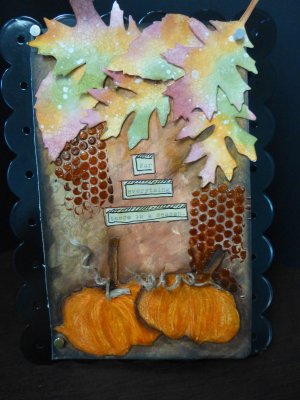 More photos for the October projects will follow later this week. However, if you see a class you would like to take in October, call the store to reserve your space - seats are limited and we are filling up our classes QUICKLY!

I hope you stop by on Saturday for our Customer Appreciation Day! I would like the opportunity to thank you for all your support these past 2 years! AND I have more GREAT NEWS - I just signed another 2 Year Lease - we are here to stay! Thanks for your continued support - we appreciate YOU!

See you Saturday!
Kathy
'Do Something Creative Everyday!'