| | |
| --- | --- |
| Monday | Closed |
| Tuesday | Closed temporarily |
| Wednesday | closed temporarily |
| Thursday | Closed temporarily |
| Friday | Closed |
| Saturday | Closed |
| Sunday | Closed |
Weather may occasionally interfere with our store hours and classes. PLEASE call ahead if there is any doubt in your mind if we are open. Thank you so much!
Hi Everyone -
Happy 'Hump' Day! Hope you are all doing well! For those of you that are a part of STAMP CLUB - just a reminder that we meet tomorrow at either 10:30AM, 1PM, 3:30PM or 6PM. Please be sure to bring your class kit - make sure it includes foam tape, pop dots and markers (or colored pencils to color an image). One of the cards we are making is a shaker card, so you will need the foam tape. We have it for sale here, if you do not have any.

What - you are not a part of STAMP CLUB? Well, you need to join us! If you would like to join us, give me a call either today (I am here until 5PM) or tomorrow morning before 10:30AM. Here are the details of STAMP CLUB:


THE STAMPER'S COVE STAMP CLUB
The Stamper's Cove is starting our 2nd year of 'Stamp Club.' The Stamp Club will meet once a month and we will make 2 cards/projects each month. Here are more details:
Stamp Club will meet the First Thursday of each month.

Yearly Membership Fee is $50/year – fee can be paid in full at the first Stamp Club meeting or in 2 payments of $25 each due at first & second Stamp Club Meeting. Your membership fee includes: creating the designated cards/project each month and your 20% discount each month. You do not pay any additional fee on the day of Stamp Club.
Snow Bird Memberships are also available for $25, which covers the months of November thru April. Snow Bird Memberships must be paid in full at time of Registration.

Fee is non-refundable.

Yearly Memberships are available anytime! Your Stamp Club membership is for one year from the date of your first meeting.

Must be present to participate in the Stamp Club. Kits will not be provided nor will participants be able to make cards for another Stamp Club member.

Participants will create 2 cards or one larger project (mini book, decorative box, etc) using stamps, dies, stencils, paste, etc.

Participants have the option of coming at 10AM, 1PM, 3:30PM, or 6PM. Each month can be a different time depending on your schedule.

If you decide to change your 'time slot,' please let us know in advance.

20% discount will be given on any one item in the store on Stamp Club Day. Discount cannot be used in combination with any other discount or coupon.

Bring your Class Kit: paper trimmer, scissors, adhesive (wet & dry), colored pencils/markers, pop dots/foam tape, Memento black ink, brown ink for edging, blending tool (rectangle or round), daubers and a water brush.



Holiday Open House, November 8th, Sunday, 12 - 4:30 PM: -

join us to kick off the Holiday during our Holiday Open House! We will have

FREE Make 'N Takes

( Reindeer Card, Min

Tea Light Gift, Holiday Gift Card Holder), Hot Wassail(if you attended last year you know this is delicious),


We will create three, 2-Page Layouts using papers from Graphic 45 and Simple Stories.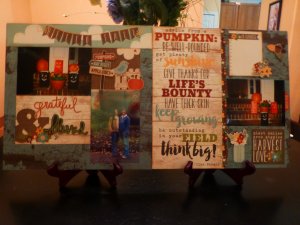 Bo Bunny Holiday Sleigh Ride Cards, Saturday, November 7th, 10:30AM - 1PM OR Wednesday, Nov. 11th, 1:30 - 4PM. Class Fee: $15. We will use paper and embellishments from Bo Bunny's Sleigh Ride Collection to create these 4 cards. You have to see them in person - they are really nice!


Dies To Die For, Tuesday, November 10th, 1-3PM. Class Fee: $18. We will use an Impression Obsession Die and foil paper to create these beautiful cards!



Looking forward to seeing many of you tomorrow for STAMP CLUB and EVERYONE at the Holiday Open House on Sunday!
Kathy
'Do Something Creative Everyday!'