| | |
| --- | --- |
| Monday | 10 - 6 |
| Tuesday | 10 - 6 |
| Wednesday | 10 - 6 |
| Thursday | 10 - 6 |
| Friday | 10 - 8 |
| Saturday | 10 - 8 |
| Sunday | 12 - 6 |
Weather may occasionally interfere with our store hours and classes. PLEASE call ahead if there is any doubt in your mind if we are open. Thank you so much!
THE BAGS ARE HERE, THE BAGS ARE HERE!!
Hi Everyone -
Hope you are doing well and had an opportunity to enjoy the this gorgeous day! We had a 'SURPRISE' 40th Birthday party for my oldest daughter, Tiffany today! She was VERY surprised and we had a lot of fun!

The Shop Hop Bags are HERE!! You can start picking up your bag on Tuesday! Remember - anyone who purchased a Shop Hop Bag from The Stamper's Cove is invited to our PRE-PARTY, Thursday, February 18th, 6-8PM. You can pick up your bag and do your Pre-Shopping that night! We will also stamp your Passports and you may win a Gas Card! We will also serve light snacks!

SOS - Need Some Props: We are in need of 2-3 small 'ice cream' type chairs for our Photo Op for the Shop Hop! We are going to have a small round table set up like a 'tea party' but we do not have any chairs that will work. If you have 2 or 3 we can borrow, please let me know! If you have any questions, call me: 941-907-0802 or email me: kathybixler1973@gmail.com

We do still have a few Shop Hop Bags left to sell - so if you and/or a friend would like to be a part of the 2016 Shop Hop, it's not too late! Even if you only go to a few stores, it's worth it to get a Shop Hop Bag because you will get 10% off your total purchase ( at least $5) throughout the ten day Shop Hop (February 19th - February 28th). PLUS - you receive lots of 'goodies' at all the stores you visit! Call The Stamper's Cove - 941-907-0802 if you have any questions or would like to purchase a Shop Hop Bag! We can reserve your Bag with a Credit Card over the phone!

Tag Tuesday, February 16th, 1-2:30PM. Class Fee: $5. Join Chrystal to create this fun tag using paint, ink, paper, stamps and more! Here is a photo of the tag!



We do have a few changes this week, to our February Calendar. We are running out of time! We are still in the process of making the 600 Tags & 1000 Layouts, plus 600 Make N Takes needed for the Shop Hop!
Pocket ScrapBooking: scheduled for Tuesday, February 16th, 6-8PM, RESCHEDULED for Tuesday, March 8th, 6-8PM.
One Stamp, 4 Cards: scheduled for this Wednesday, February 17th, 1:30 - 3:30 RESCHEDULED for Wednesday, March 2nd. 1:30 - 3:30PM. Class Fee: $15. We are using a stamp from Impression Obsession - the stamp is included with class!
Here is a photo of the cards for One Stamp, 4 Cards!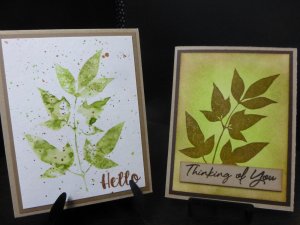 We will be working on Tags, Layouts and Make N' Takes most of this week. If you have any free time and want to help us, call me! I will let you know what time we will be working (actually will probably be 24/7 until Thursday, haha)

Take care - see you for the Shop Hop!
Kathy
'Do Something Creative Everyday!'