| | |
| --- | --- |
| Monday | Closed |
| Tuesday | Closed temporarily |
| Wednesday | closed temporarily |
| Thursday | Closed temporarily |
| Friday | Closed |
| Saturday | Closed |
| Sunday | Closed |
Weather may occasionally interfere with our store hours and classes. PLEASE call ahead if there is any doubt in your mind if we are open. Thank you so much!
MARCH CALENDAR AND SHOP HOP UPDATE
Hi Everyone!
Hope you had a great weekend and had a chance to spend sometime outside in this beautiful weather! We have been sooooo busy since the Shop Hop - it has been a good week at The Stamper's Cove!

Shop Hop Update: We had a FANTASTIC 2016 Shop Hop! We had just shy of 600 Shop Hop participants in our store during the 10-Day Shop Hop! Everyone loved our tags and layouts! We received tons of compliments on our store! Thanks to the many 'volunteers' that helped us create the 600 tags, 1000 layouts and flowers for the Shop Hop! Also, thanks to the 'volunteers' that helped in the store during the Shop Hop! You helped Chrystal organize and run the Make 'N Takes and helped me check out all those 600 Shop Hoppers and did it with a smile! Here are some photos from the Shop Hop:
We had a 'few great men crafters!'


Lots of GREAT Shop Hoppers!!

March Calendar: The March Calendar is online, here is the link for your convenience:
http://www.thestamperscove.com/module/events.htm?pageComponentId=611663&month=3&year=2016
Here are some photos and highlights of the March Calendar:
Dies To Die For, Tuesday, March 8th, 1-3PM. Class Fee: $25. We will use the Taylored Expression Die, In The Garden, to create these two cards - remember the die is included with the cost of the class!


Double Layout Design 2, Tuesday, March 8th. 6-8PM. Class Fee: $10. Bring two 4x6 photos: both horizontal, both vertical or one of each to create this 2-page layout. We will use the colors from your photos to choose the papers to create your individualized layout, along with other dimensions.
Card, Card, Card, Bag, Wednesday, March 9th, 1:30 - 3:30PM. Class Fee: $15. We will make 3 Spring/Easter cards and a cute Tote Bag to use for spring gift giving. The stamps, dies and papers we will use are from Lawn Fawn, Taylored Expressions and Impression Obsession. Here is a photo of one of the Cards and the Bag.


Planning for 2016, Thursday, March 10th, 1-3PM. Class Fee: $10. Bring your planners and join us for a fun day of 'planner sharing!' We will discuss the various types of planners, decorating our planners and how to best utilize all the planning tools available to us! The Class Fee includes a 'planner gift!'


Art Journaling, Thursday, March 10th OR Saturday, March 12th, 10AM - 12PM. Class Fee: $10. Join Chrystal to create another FANTASTIC page for our Art Journal! She will use various mediums along with paper and embellishments to create our next page in our Art Journal!
Monthly Pocket Scrapbooking, Tuesday, March 15th, 6-8PM. Class Fee: $10. We will use a combination of photos and pocket cards to create a two page layout. More details (photo sizes) to follow!
Color Me Spring Cards, Wednesday, March 16th, 1:30 - 3:30PM. Class Fee: $18. We will use Peel Off Stickers, Clear Adhesive Sheets, Microfine Glitter and Copic Markers (or Sharpies) to create these beautiful Spring Cards. Photos to follow.
Using Stencils in Card Making, Thursday, March 17th, 1-3PM. Class Fee: $12.50. In this class we will explore the various ways to use stencils in Card Making. We will use embossing paste, inks, watercolors and sprays to create beautiful cards! Participants will receive a stencil with this class!
We Are Family Mini Album, Friday, March 18th (10AM - 4PM) and Saturday, March 19th, (10AM - 1PM). Class Fee: $40. Join Chrystal to create this wonderful, creative Mini Album! This album is 20 pages and includes papers, embellishments, and an album, all from the Simple Stories, "We Are Family" Collection. The Album is in the store for your viewing! Here are some photos from the album: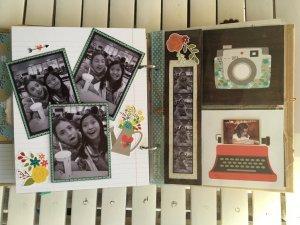 All Occasion Pop-Up Cards, Wednesday, March 23rd. 1:30 - 4PM. Class Fee: $20. We will use 3 dies from Elizabeth Crafts to create these cards. We will use the Adirondack Chair Pop-Up Die, the Hot Air Balloon Pop-Up Die and the Cup Pop-Up Die. You will receive a 20% discount on one of these dies if purchased on the day of the class. Photos to follow.
Beautiful Boxes For Spring, Thursday, March 24th, 1-4PM. Class Fee: $22. Join me to make 2 Beautiful boxes and tags for spring! We will use boxes from Graphic 45 and beautiful spring papers from Bo Bunny to create these boxes! Photos to follow.

Thanks so much for reading all the way through this email! As you can see - we have a lot of crafting opportunities for you in March! I hope you can join us! In appreciation for reading through this entire email - come into the store from Tuesday, March 8th - Saturday, March 12th and whisper the secret code words 'finally spring' and you will receive a free gift from me!

Before I go - here is a recent photo Sarah sent me of my girls! Emelia is really looking like the 'big sister,' right? Claire, at 18 months, is always smiling!


Take care everyone and stop in to see us at The Stamper's Cove!
Kathy
'Do Something Creative Everyday!'