| | |
| --- | --- |
| Monday | Closed |
| Tuesday | Closed temporarily |
| Wednesday | closed temporarily |
| Thursday | Closed temporarily |
| Friday | Closed |
| Saturday | Closed |
| Sunday | Closed |
Weather may occasionally interfere with our store hours and classes. PLEASE call ahead if there is any doubt in your mind if we are open. Thank you so much!
June Calendar With Photos!
Hi Everyone!
Hope you are doing well and had a great weekend! The June Calendar is ready and I wanted to share some of the highlights with you tonight! Click the link below to see the entire June Calendar:
http://www.thestamperscove.com/module/events.htm?pageComponentId=611663&month=6&year=2016
Call The Stamper's Cove to register for any of our classes: 941-907-0802.

Tag Tuesday, Tuesday, June 7th, 1-2:30 PM. Class Fee: $5. Join me to create this fun tag using Tim Holtz's layering stencils, paints, inks and stamps! This is a really fun technique! Here is the photo-


Free Style Art Journal Class, Thursday, June 9th and Saturday, June 10th, 10AM - 12PM. Class Fee: $10. In this class, Chrystal will put out a bunch of different materials and you will create a journal page using the materials on the table along with your own 'class kit' materials! This is a fun creative class!
Sea Horse Canvas Bag, Saturday, June 11th, 1-3:30 PM. Class Fee: $20. We provide the canvas bag, the paints, the stencils and the paper - you provide the fun! This is a great bag for the summer to tote all your crafting materials. The bag is 14x14 - a perfect size!


Painting With Color Burst, SUNDAY, June 12th, 1-4PM. Class Fee:$20. Yes, we are opening The Stamper's Cove on SUNDAY for this class! Join Chrystal to create an 8x10 canvas painted with Color Burst! You may have used Color Burst to create beautiful backgrounds, but have you ever used it to paint? Chrystal will show you this cool technique, so you can create this beautiful flower canvas!


Dies To Die For, Tuesday, June 14th, 1-3PM. Class Fee: $22. We will use the Circles cutting plate die by Taylored Expressions. We will make two cards and you will receive the die with the cost of the class! Photos to come!
Stenciling With Metal Stencils, Wednesday, June 15th, 1:30 - 3:30PM. Class Fee: $20. We will use a Stamp & Stencil Duo by Stampendous to create 2 cards and a treat bag topper! You will receive the Stamp & Stencil Duo with the class (on the day of the class) - which includes two metal stencils, a stenciling pen and 5 cards!

Photos to come!


One Stamp, 4 Cards, Thursday, June 16th, 10AM - 12:30PM, Class Fee: $15. We will use a Taylored Expressions Stamp to create 4 Cards using this One Stamp! You will receive the stamp with the class on the day of the class!

Photos to come!


Flower Canvas Frame Class, Saturday, June 18th, 1-4PM. Class Fee:$30. Join me to create this fun Flower Canvas Frame - using flowers by Petaloo, a canvas frame (turned backwards), sprays, stamps, paper and more! I will have several colors of sprays available for you to choose from to make your project. As you can see, I used several shade of pink and yellow to create my project. In the photo I have the frame laying down on the table - the frame actually stands up on its' end. I will send another photo later in the week to show you another view. Trust me - it's gorgeous!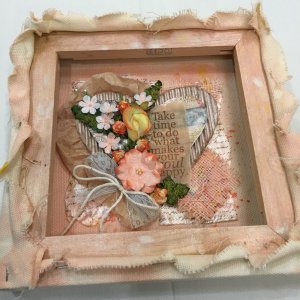 Summer Cards With Stampendous Stamps, Wednesday, June 22, 1:30 - 4:30PM. Class Fee: $20. The 5 cards we will be making in this class are all very different, but beautiful! The photo doesn't do them justice - you need to see them in the store! We will use Stampendous Stamps, inks, embossing powder, and embellishments to create these cards. In addition, you will receive 20% off when you purchase any of these stamps!


Craft Apron, Saturday, June 25th, 1-4PM. Class Fee: $35. We will provide the aprons, fabric, trims, paints and embellishments to create this 6 pocket Craft Apron! You can even pick some of your own colors! I made this at the show in Boston and it was great fun! By the way - part of the design is the 'dripped paint' you see on the apron! You will love creating this fun apron that you can use for years to come! Space is limited to 10 - so make sure you register quickly!


Tim Holtz Layering Stencil Cards, Wednesday, June 29th, 1:30 - 4PM. Class Fee: $15. I am in love with this technique! We will use Tim Holtz Distress paints, inks and stencils to create these cards and a tag! I used anywhere from 6-8 (or more) stencils on each card, plus stamps! You will LOVE creating these cards - it is VERY addicting!! The cards we create will be similar to those in this photo - I just have so many samples, I don't know which ones we will make - haha!

Here are a few photos of my 'little ballerina!' Emelia had her first Ballet Recital a few weeks ago! I don't think I've ever seen her so happy! She loved it! I am excited to let you know Sarah, Emelia and Claire are coming to visit! They arrive on Wednesday afternoon - we may have some limited hours at the end of this week - I will send out an email if our hours change and I will post it on our Website!



Better get to bed - tomorrow is another busy day! Take care everyone and be careful - looks like we will be having some rain the next couple of days! Be safe!
Kathy
'Do Something Creative Everyday!'