| | |
| --- | --- |
| Monday | Closed |
| Tuesday | Closed temporarily |
| Wednesday | closed temporarily |
| Thursday | Closed temporarily |
| Friday | Closed |
| Saturday | Closed |
| Sunday | Closed |
Weather may occasionally interfere with our store hours and classes. PLEASE call ahead if there is any doubt in your mind if we are open. Thank you so much!
Hi Everyone!
TGIF! It's been rather slow here today, but then I had a visitor ..........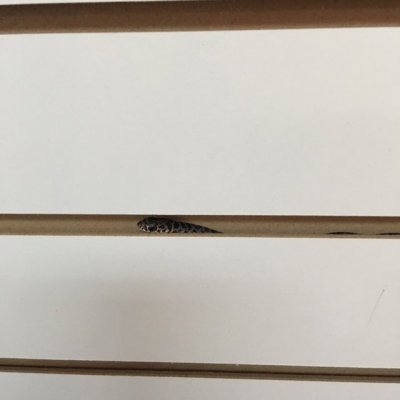 Yes, it's a snake! I moved a shelf that was on the wall and he 'popped' his head out of the slat board! Guess I disturbed his nap! By manipulating 2 paint brushes and a jar, I managed to catch him. I put my hand over the jar but he was longer than I thought and started getting out of the jar. I grabbed him and he swirled around and BIT ME!!


That's the thanks I get for trying to give him his freedom! I then grabbed his neck a little closer to his head and took him outside! He went slithering away in the grass!!

Now what you don't know is earlier in the week, I found a 'tree frog' in the bathroom. I caught him in a Tervis Tumbler and put him outside! He must have been in the store a while, because he was really thin and full of 'dust bunnies!' I grabbed a spray bottle on my way outside to let him go - put him on the grass, gave him a couple sprays (I'm sure he was dehydrated) and told him to "go get something to eat!" Who knew there would be so much nature IN The Stamper's Cove!! Haha!

The REAL reason I am sending this email is to let you know we are getting ready to send in our SECOND order for the MISTI, so I thought I'd see if any of you wanted to get in on this order! I've had many of you come in this week to see my demo of the MISTI - AND you bought one! It is truly the MOST INCREDIBLE STAMP TOOL INVENTED! If you are interested in ordering a MISTI just call The Stamper's Cove (941-907-0802) and we can take your payment on the phone! The price is $64.99 + tax = $69.59. If you haven't seen this tool in person, I have it at the store and I would be happy to demo it for you! YOU WILL LOVE IT!! The MISTI measures 8x10, with a stamping area of 6.5 x 8.5. I am MISTI's greatest fan, haha! I hope to send in our second order no later than Tuesday, June 28th, which means we should have them for you to pick up in about 7 business days - the end of the week of July 4th!



Have a great weekend everyone! Enjoy the nature that surrounds us all!
Kathy
'Do Something Creative Everyday!'