| | |
| --- | --- |
| Monday | 10 - 6 |
| Tuesday | 10 - 6 |
| Wednesday | 10 - 6 |
| Thursday | 10 - 6 |
| Friday | 10 - 8 |
| Saturday | 10 - 8 |
| Sunday | 12 - 6 |
Weather may occasionally interfere with our store hours and classes. PLEASE call ahead if there is any doubt in your mind if we are open. Thank you so much!
USED STAMP/CRAFT SALE A HUGE SUCCESS!!
Hi Everyone -
Hope you are doing well! Though it's after midnight - I am still up! I've been watching the Olympics! I saw Katie Ledecky win a Gold Medal and break the World's Record, Michael Phelps and the 400x400 Relay Team win a Gold Medal, then how about that Women's Gymnastic Team!! Woohoo! Go USA!!

The USED STAMP/CRAFT SALE was a HUGE Success!! We had a TREMENDOUS turnout - lines formed down the sidewalk before 9AM! We had tons of 'slightly used' crafting supplies and very happy customers! The comments I heard all day were how great everything was priced and that we had a great selection of merchandise!

Our 'sellers' had a VERY good day! Many of them sold 'several hundred dollars' worth of merchandise! It was a VERY SUCCESSFUL sale for everyone!

A special 'shout out' to some new customers that came all the way over from Orlando for our sale! It was great meeting you - thanks for visiting The Stamper's Cove - we appreciate you!

Marsha, Marcia, Terre and Doris - THANKS SO MUCH for your help! I couldn't have done it with out you! Marsha & Marcia manned 'Step One' of the check out process, Doris was the 'Bag Lady' and Terre was our 'Calendar Girl' - passing out the calendars and keeping me in line at the front counter! Marsha also helped set up all the 'merchandise' on Friday! A HUGE job - thanks so much! Know how very much I appreciate your help ladies!

If you were a 'seller' on Saturday, please be sure to come by the store and pick up any items that did not sell, no later than Thursday, August 11th by 4:30PM.

If you were NOT a seller and you would like to be a seller in the future, we will have another USED STAMP/CRAFT sale in early 2017 - either late January or early February! Watch the newsletter for more information! Start to prepare now - get a bin and mark it 'sale items.' Then between now and 2017, put the items you may want to sell in the bin. You will be ready to roll when the next sale comes around! Believe me - it is worth your while!

Here are some photos I took at the sale -
These ladies are serious shoppers!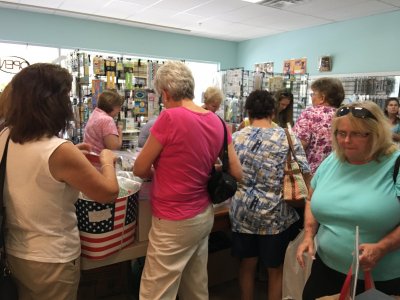 Our helpers, Marsha, Terre & Marcia!


Our 'Bag Lady' - Doris More shoppers on the hunt...

Thanks to all of you that came by for our sale! Our Sellers appreciate your business and so do I! Thanks for your support!

Have a GREAT week everyone! Support our athletes and watch the Olympics! You will be inspired - I know I am - it's what true dedication looks like! USA, USA!
Kathy
'Do Something Creative Everyday!'