| | |
| --- | --- |
| Monday | Closed |
| Tuesday | Closed temporarily |
| Wednesday | closed temporarily |
| Thursday | Closed temporarily |
| Friday | Closed |
| Saturday | Closed |
| Sunday | Closed |
Weather may occasionally interfere with our store hours and classes. PLEASE call ahead if there is any doubt in your mind if we are open. Thank you so much!
Hi Everyone,

Just a few more hours & will be on our way to Stampfest at the Park Inn in Kissimmee FL. If you are going to be there stop by & say Hi would love to see you.

June 29- July 1 See You in Kissimmee for Stamp Fest. Store Is CLOSED thru July 4

July 5, Never Ending Impossible Surprise Class with Sherree

, 6 PM, $15.00


How did you do that ??? This is a must do class if you have never made a Never Ending Card with it's amazing fun folds. Join Sherree as she teaches you 3 fun techniques & the impossible card with it's many cool optical illusions. It sounds tough but Sherree makes it easy. Your last project is good for the environment & fun too. Turn those tin cans into a gift holder. Sign up early for this one it's going to sell out fast. There may be variations.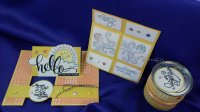 The Never Ending class is going to be BOGO. Pay for your class & bring a friend to this class for free. Sign Up closes July 2nd. After June 28 sign up only through email. Please make sure you sign up both you & your friend.

Friday, July 6, Sip & Create, 10:15 AM, $3.00
July 11,
Sip & Create
, 10:15 AM, $3.00
July 12,
Super Swap Class
, 6 PM, $15.00
Join us as we share ideas & cards. This class is always fun & full of great technique & tips. It also includes a stamp set. This is some of the cards from last month. Can't wait to see what this month brings. Limited seating.

July 13th, Sip & Create Take 2, 10:15 AM, $3.00


July 18th Sip & Create, 10:15 AM, $3.00



July 19th, Cards with Gerlinde, 6PM

July 20th, Sip & Create, 10:15 AM, $3.00

We will be closed July 21st - July 31 We will reopen Aug 1
Please reserve your place in classes by emailing Nancy at ladybugspapercrafts@gmail.com or call 941 725 4537. Remember payment is due when you sign up. Do not hit reply to this email it won't work :(
Happy crafting,
Nancy
Lady Bugs Paper Crafts
11532 Palmbrush Trail
Lakewood Ranch (Bradenton) FL 34202

Same plaza as Capoeria
941 725 4537
Hrs
Wed 10 - 5
Thur 10 - 7
Fri 10 - 5
Sat 10 - 4